If you haven't read our earlier articles in this series on name plates, we recommend you read them.
LED Name plates – What, why and how?
With the invention of bulb, Sir Thomas Alva Edison made a revolutionary change to the world. From a basic house hold light to decorative chandeliers, the incandescent bulb ignited a 360 degree revolution around a human. But in 1962 Nick Holonyak an American engineer invented the first light emitting diode, popularly known by its abbreviation – LED. Though the man did not receive as much popularity as Mr.Edison did, but his discovery sparked hundreds of inventions ahead. Computer screens, television, mobile phones, every digital device today use LED in some form or the other. Invention of ultra slim back light panels has also taken over the road side advertisements. Led panels are also creating amazing designs in photo frames and other such graphic presentation products. A brilliant glow from behind enhances colors and the content. It impresses the viewer. Why not use this back light glow in home name plates, which is the first impression for any guest? Name plate with brilliant LED lights, which can be called LED name plate.
Why to add light in name plate?
There are two reasons for it
The logical reason
Finding a new address in dark is difficult. Especially for bungalows which do not have enough street lighting. After sun sets, finding the house number becomes a task. You may have experienced this some time in your life as well. Stopping the by-goers and asking for help becomes the only option then. Embarrassing moments like ringing the bell of some neighbor's house could also happen. Adding light to a name plate gives it a clear distinct look. In dark with light from behind the name and house number is crystal clear even from distance. Hence finding an address gets easier and convenient for the guests.
The aesthetic element
Like any other back light panel, adding light to a name plate beautifies it. Light is naturally pleasing to a human eye. Using light with a golden or textured print, the name plate gives a warm feeling to the view. Fine laser cut fonts with warm white light gives a pretty hide and seek feel to it. Moreover the names and content look more enhanced than any other wooden name plate.
Which materials are good for led name plate?
Back light name plates require completely opaque material for giving a cut out look. Many types of sheets can be used for doing this. But the most apt are acrylic and stainless steel.
Acrylic name plates with light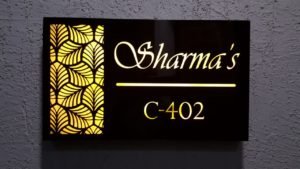 Poly(methyl methacrylate) also known as plexiglass or acrylic is a good choice for a backlit led name plate. Acrylic is the material which has been a popular choice for outdoor signage. There is a reason for it.
It is a shatterproof sheet unlike glass. This gives it a better life than glass.
It is light weight. This makes it suitable for signage in long run.
It has strong weather resistant properties. This increases life of acrylic name plates in outdoor.
Acrylic is available in many natural colors. Unlike wood which needs a layer of paint or vinyl above to make it presentable, acrylic sheets are available in all shades. Strong colors like black and brown sheets contrast well with the light from within.
Acrylic being a Plexiglas is available in clear form. This makes engraved led acrylic name plates possible. With engraving done atop and light from sides, these acrylic name plates look stunning.
Acrylic name plates are made with joining pre cut 3-5 mm sheets using chloroform. No additional framing implies more rugged construction.
A shine like glass but far more strong. Acrylic is available in many colors and finish. But the most popular sheets for name plates are black, white and gold in glossy finish. The super-glossy nature of these sheets gives the rich glass look to the final product, though the durability is far better than it.
Stainless steel LED name plates for home
Main reason for using steel in any of the name plates is its life. Stainless steel has a long life in outdoors. Hence is the favorite choice for park benches, railings and other outdoor furniture. Moreover steel gives a premium feel to the name plate. It is a relatively expensive material. And it looks even more rich when complemented with light. contrasting designs can be obtained using red, orange or hues of yellow with the silvery finish of steel, . Though this is more expensive in comparison to wooden or acrylic name plates, stainless steel name plates have a charm of their own. Here is a picture of one such design we made with light.

Edge-lit led name plate
Most of light name plates use backlit technology.  This is basically a cutout of material in front with light from behind. Wherever the sheet is cut, light will be radiating out. Edge-lit designs use light differently to beautify a door name plate. The letters do not radiate. Neither does the design. It is a set up, where light only comes from the edges of the creative. A three layer laser cutting is used to acheive this. Firstly on the base layer the design is cut as it is. The second layer is a translucent sheet in which the elements of design are a bit bigger than the one in base layer. And then there is the third layer of opaque sheet on top which is same size of the base layer. Now when light is fixed behind the base layer, the light only leaks through the translucent sheet. And that too only in the part where the top opaque third layer is not present. Hence the light only leaks through the edges of the content and not throughout. Planets of Gold is one such edge-lit acrylic name plate.
Glow in dark name plates
These designs are not basically door name plates with light. Neither do they give same output. But if one does not have a power supply at the door, they are the best choice to go with. As the name suggests, these home name plates use glow in dark material. The material contains phosphors which emit light after they have been charged. So it radiates in dark. Hence this simple glow in dark name plate looks splendid at the entrance.
How to order a LED name plate?
The process is pretty simple for you the customer. Select a design which matches your taste and order from there. Once ordered, you need to send the content you wish to have on an email/whatsapp. Once we receive the content, we will share a design preview to you. And as soon as you approve the preview, we will get the name plate into production.
Depending on the location, we deliver customized name plates with light in 4-7 days from the date of preview approval. We can do it even faster on request basis. Contact us on +91 9624622160 for discussing any queries you may have.
Maintenance of an LED name plate
Usually all led name plates that Zoci Voci produces uses LED light modules with a 220 V AC to 12 V DC power adapters. LED and adapter are fixed on the back panel. We use premium quality lights in our products. But in case of any technical issue, the back light name plates can be opened from behind. Back panel is attached to the front body using screws. This makes maintenance very easy for any local electrician.
Other than this, one would hardly need to look at the name plate once fixed. A wet wipe is enough to clean an acrylic name plate. They do not absorb dust. And same is the case for steel models. Both sheets having glossy finish absorbs minimum dust and are very easy to clean.
How to fix an LED name plate?
Here again, we use the back panel. We provide holes on the back panel, which can be simply hung on the nails to wall. If it is an outdoor location, which is prone to theft, we can even provide wall mounted screw arrangement.
For checking out our new designs on home name plates, follow our instagram page.
To read more about Name Plates, here is the list of articles we have written: