The new era of
Personalized
Gifting
We at Zoci Voci, look to develop fresh ideas and convert them into effective products. May it be personalized gifts, photo lamps, home name plates or the long distance telepathy lamps, intent behind all our designs is to create something new. Not another design of the same idea, not a fancy touch to a regular product, but genuine novel solutions.  Solutions, which take the existing answers from zero to one. A binary change, which would make the world an even better place to live in. Here is a brief history of photo lamps – from our founder's study table to the bedsides of our thousands of happy customers.
History of photo lamps
The Eureka Moment
Road side banners and branding took a revolution with the addition of light behind. These back lit banners inspired one of our team members. He found them exciting. Every word, every shade on a graphic looked so pleasing with light within. Pictures almost look digital with it. He was fond of looking at all those glowing banners. But they were all outdoors, where companies could afford. Why don't we have something so cool at home?
This is where the idea of a personalized lamp was conceived.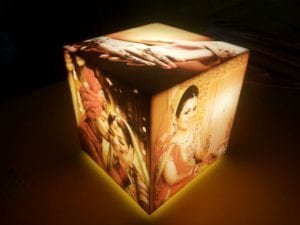 Having pioneered the concept of personalized lamps with Cubelit (a simple 5 sided photo cube with light inside), we now have the widest range of these beautiful photo lamps in the world.
Using the company experience – Trade Expo
Our parent company deals in exhibitions and services. We felt trying out a stall in a retail exhibition would be our safest bet. Our first retail exhibition was a gamble. With just 5 products on a table, we were sitting next to some stalls who had hundreds of home decor ideas to showcase. In a small booth at the exit of a huge furniture and interior expo, we were nervous. First day added to our worries. We didn't have many customer interactions and had only one order on the book. Next was a Saturday. The organizers had given out big advertisements. We were expecting some interactions.
But what hit us that day was something no one expected.
There were so many people in front of our stall, that the aisle was blocked. We had over 70 orders in one day. This was huge considering that we had just put out five prototypes.
Photo lamps – A great gift
The exhibition success gave us wings of confidence. There is nothing better than a real market test for a product and our photo lamps received immense love. Not just in form of orders, but in customer appreciation as well. People loved the idea. But we still lacked a consistent platform to sell it.
Another thing that we learnt in the exhibition was that people find it as a good gift. This was not something we expected. Many booked our little boxes of joy for their own selves, but a good portion of the audience ordered it as a gift for some one. May it be birthday gifts or anniversary gifts, the novelty of idea made it a great surprise gift. Hence we decided to test in the gift market.
Personalized lamps going online
After having some sour experiences with retailers trying to replicate our designs, we decided to try online markets. But we didn't know about online gift market and how well we could fare into it. The first online gift reselling portal we contacted, got us onboard. It was a new portal, hence going live was not tough. We had to dig deep for finding the right contact of our second reseller. This was a well established company who did good numbers. They didn't take all our products. But within a week of going live, we knew we had a great partner. Consistently increasing orders, amazing customer reviews and a sizeable team is what followed. In one year, we developed more than 20 different designs.
Rotating lamps – Customer demand
From day one of our exhibition, one constant suggestion we received was to get the lamps revolving. People wanted to see their memories in motion while a light from inside radiates. It was technically challenging. The wiring was a question. Introducing a slip ring could have solved it. But the cost would rise then. One fine day, our research team found a very simple idea.
For light to reach inside the photo lamp, it does not have to be physically inside it!
This idea worked like a charm and gave us complete liberty over design. Soon we had over 5 unique designs in revolving personalized lamps.
Light, rotation, Music!
The next addition to the personalized lamps had to be music. Adding a new sense to the product, adding a recorded music was something suggested by many. But having a same recorded tune to play could be frustrating. Hence we added a full proof music system to the designs. A premium sound quality with maximum compatibility was the aim.
The first version which came out of the design studio was Harmony – photo lamp with speaker and inbuilt backlit clock.  This is a steady lamp which was designed to replace everything that is there on one's desk – clock, photo frame, light and speakers. Soon we rolled out a rotating version of a speaker lamp with photos – Yaadein – light speaker with rotation.
As we still write
Starting our own online gift store – Zocivoci.com
A unique platform for our unique gifts
We did decent orders in the two years of going online first time. With the popularity of photo lamps rising, the search volume on Google also increased. Soon, our products formed a new category on major gifting websites of the country. But selling on Amazon made us realize the value of customer interaction. Being in direct touch with the users of our products, we gained two things
Taking customer feedback helped us improve our product and overall experience every day. The value of packaging and message card and importance of fast delivery in gifting industry were few of our gains.
Online gift portals at that time did not present our products well.  For example, a rotating lamp without the product video is not cool. People bought our products even without knowing all features.
Our products were unique. And all online platforms including Amazon had their interface designed for conventional mainstream products. Hence we decided to create an online platform for our products specifically. And it is where you are currently reading this post – www.zocivoci.com
Selling photo clocks and personalized mugs online
Along with photo lamps, we designed some really creative personalized clocks. Products like Carlit – Personalized car accessory and 4Play further added to our catalog of personalized gifts. Later came in those cool customized photo mugs. Every product we designed, the idea was still the same. A unique idea with a strong utility value to it was a perfect gift according to us.
Invention of Telepathy Lamps
Imagine that you are staying away from your family. It could be for job, education or a different country altogether. Now your mom thinks about you so many times in a day. But she can't call you every time. What if she touched a lamp on her table and a light magically turns on your office desk? You would know that your mom is thinking about you. Sweet isn't it?
The idea attracted us equally and we decided to make a product which could connect people. After 14 months of constant effort was born Telepathy – India's 1st and World's #2 long distance friendship lamp.
The product has given us wings and Telepathy lamps have been connecting users across 15 countries now. Appreciation from users across the globe drives us to add more features and designs. And, we are on it!
Name plates with light
After creating over 70 designs in lamps, our designers wanted to create something fresh. Not another design. But zero to one logic! One day, while visiting to a relative's place one of our designers found it difficult to locate the house. It was night and though the relative had a nice wooden name plate, it was not visible in dark. He found this a problem.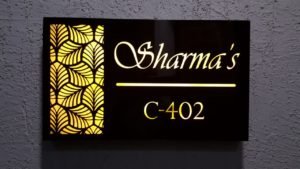 The solution to this was a name plate which had light inside. Our material of choice was same as the lamps. It was light, strong, weather resistant and had natural gloss. Acrylic name plate with light was added to our offers. Within a month of creating the first design, we had three more. And soon a catalog full of stunning home name plates was ready!
Vision ahead
We constantly are looking for problems where our technical expertise can create solutions. We do create better iterations of an existing idea. But our intent is to conceptualize new ideas and products.
If you feel that you have an idea where in our expertise in technology and materials can create a solution, do contact us. And if you are looking a personalized gift or a name plate online and have just stumbled upon this page, we assure you a happy buying experience.
Our customer reviews will tell you of the smiles that we deliver 🙂
Zoci Voci is a brand owned by the company Trade Expo.
Great gifting idea..everybody in the family thoroughly loved it.. Thanks Deepak n team to deliver it in such a short notice.. brace up for many more orders to come.
Bought the personalized lamp from one of the furniture fair in Bangalore. It is really amazing and a very innovative design. The delivery was superb as I received the lamp in just 3 days. Very nice customer service and quality is top class. Keep up the good work
Received the personalised lamp, and it is really amazing.. Had even requested them to send it at the earliest since it was a bit urgent, and indeed i received the lamp much before time.. Thankyou Zoci Voci for such a great service
Awesome product. Prompt delivery and Excellent customer support. I'm extremely happy with the product quality and the consideration given to any request, whether for the gift or guaranteed delivery before a specified date. I have ordered twice so far. Overall great. Highly recommended !!
Ordered a personalised lamp....it was awesome...zoci voci is customer friendly....good and fast service...the product was on time as expected...nicely packed and it was more than satisfactory....Thank you
Cubelit is simply Awesome !!! Very innovative and utility based gift option... Quality is exceptionally good as compared to other personalized gifting options... You won't feel alone when you have Cubelit along your bedside with smiling pics of your loved ones illuminating in middle of the night... Well done team ZOCI VOCI... Looking forward to more products from you guys...
The lamp is extremely amazing, I love it much… I really want to buy more designs from ZOCI VOCI. Committed the same to them via email already. Also, I have referred this product to many of my friends. Wanna be a loyal customer to them, since the customer support is really good, and the quality of the work by this team is really great. Trusted company… Highly appreciated. Good job team.. All the best… Thanks for your support and service..