Unique Rakshabandhan Gifts
B'coz your sibling deserves the best
• World's first friendship lamp with insert able pictures • Touch on one lamp, lights up the other in same color • 4 Photos can easily be inserted and changed later • Set color for your mood and touch. Other lamp will light up in the color you save • Standby yellow light for usage as a regular night lamp • Size: 8 inch height x 4 inch width x 4 inch depth. Material: Acrylic • Each photo window size: 4.5 inch height x 3 inch width.
Setup, Warranty & Videos
If you want each lamp on different address, add the second address in Additional Info (Order Notes) while checkout.
Shipping for India is free. For International orders, please email address to [email protected] for getting quote and payment link.
Super Cool
Photo Caricatures
Fun Gifts For Your Fun Bro/Sis
Birthday gift for brother or sister Gift for brother or sister for rakhi Suitable Friendship day gift Personalized gift – Face will be cutout from the photo you provide Black acrylic base with custom name Brilliant colors and premium quality print on sublimation MDF wood Size: 6"x 4"x 2". Ideal for table top in offices and study table
Express Your Love With
Creative Rakhi Gifts
For Memories That Are Eternal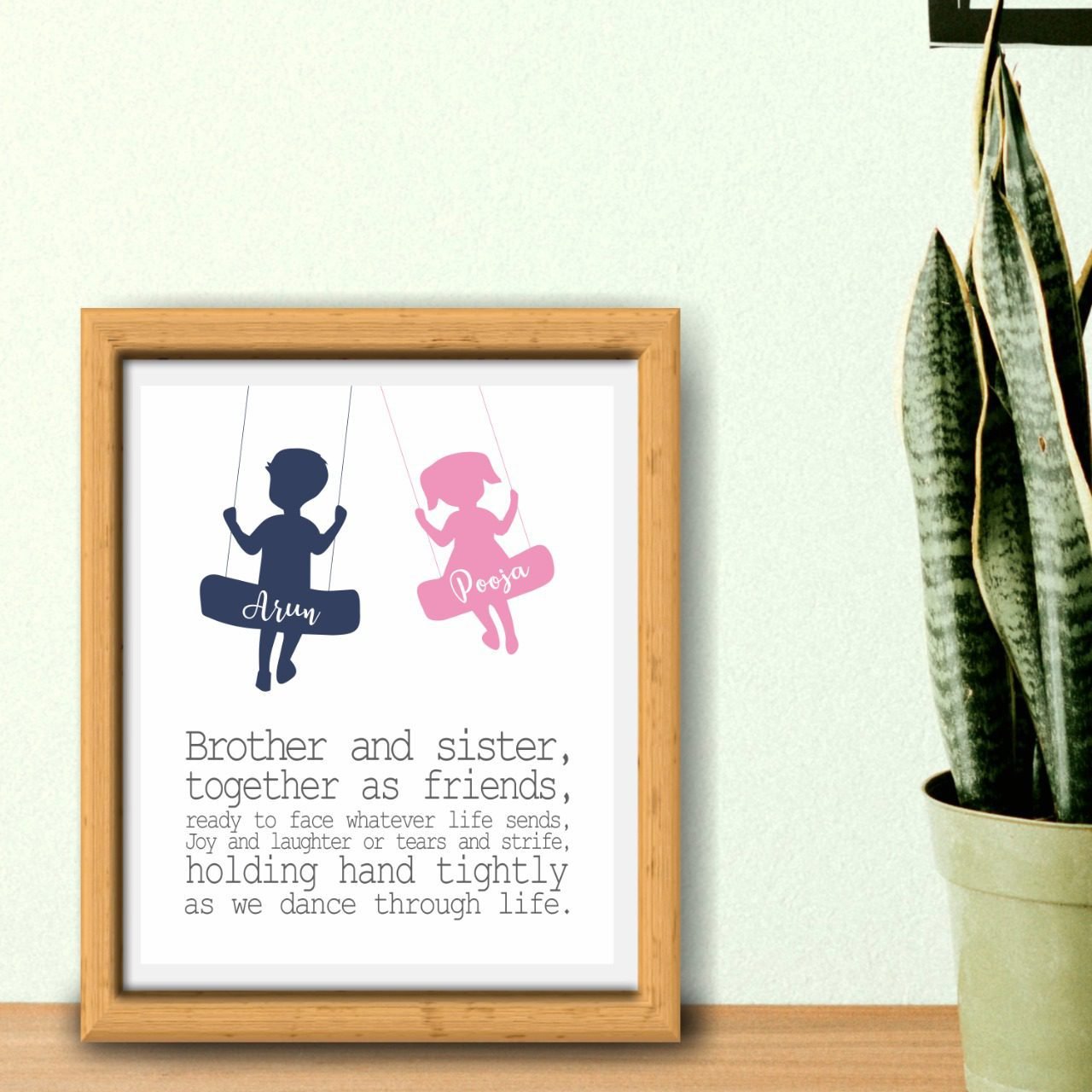 • A photo frame which symbolizes childhood • Personalized with two names • 2 Size available: 6x8 inches and 9x11 inches, PVC frame + wooden back • Poetic quotes expressing the beautiful relationship of brother & sister
In Sanskrit, Raksha means "protection" and Bandhan means "a bond". Thus, Raksha Bandhan is a celebration of the sibling bond. It is dedicated to the strong bond of goodwill and protection. Raksha Bandhan is celebrated by tying a Rakhi on brother's wrists by his sister. The brother in return gives his sister many gifts o show his love and care for her.
Do you wish to buy the best gift for sister on Raksha Bandhan? Zoci Voci offers you the best gifts.
Chose Zoci Voci for the best gift for sister on Raksha Bandhan
Zoci Voci has the best Personalised Gifts for the occasion of Raksha Bandhan gifts for you. And with a wide assortment of gift items available at your fingertips you are spoilt with choice. There is Personalised items available right from coffee mugs to personalized photo lamps.
Zoci Voci has Personalised Gifts available for both the brother and the sister. choose the quirkiest gift for your sibling! We have made a list of the best Personalised Gifts that you can give to your siblings this Raksha Bandhan.
If you wish to tie the Rakhi this year in the most creative way, go for Zoci Voci's Dor, a personalized Rakhi photo lamp. Dor is a LED Photo lamp with a cutout of Rakhi, and you can personalize this by adding a photo and a quote as well!
Zoci Voci has a wide assortment of Personalised Gifts dedicated to your sister. You can choose from simple coffee mugs with your photo print on it to Rotating Photo Lamps.
You can customize and personalize all your Raksha Bandhan gifts by sitting back at your home. Zoci Voci makes sure that you get the best quality Raksha Bandhan gift at your doorstep. So we can assure you that your sibling will be swoon by your gift!
Despite our blogs and best efforts to simplify everything and give the best-personalized gift ideas, it can be a real challenge to figure out what you want and sometimes confusing as well, but we can help—Opt-in for our free personalized gift consultation to choose good birthday gifts for you.
For getting regular updates on our new products, follow our Instagram page and our youtube channel.