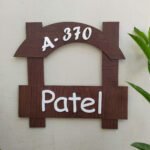 Smiling wooden name plate with acrylic fonts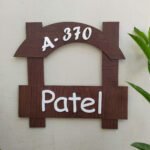 Smiling wooden name plate with acrylic fonts
₹ 850.00
₹ 850.00
A minimalist name plate which hints a happy face
Effective presentation of apartment number and surname below.
Letters are laser cut in white acrylic and fixed atop.
Comes with wall hanging arrangement on the back panel.
Size : 8″ X 8″
Delivery:
Metro cities - 2 working days
Non metro - whatsapp 96246 22160 for confirmation.
Description
In modern times, first impression makes a lot of impact in the viewer's perspective. A name plate is the first thing that your guest looks at while walking in.  It is the very first impression on your guest. So it must not just be impressive, but should also tell a small story. Make him/her smile with a signage that hints a smile. The minimalist curved design suggests a happy and smiling face. Though simple, the name plate offers good presentation of the house number in curve. And the surname prominently featuring below it on a straight plank. This name board uses MDF with wooden textured vinyl as base giving it a smiling look with the curve design. The letters are laser cutout in white acrylic and fixed from the top. There is a wall hanging arrangement on the back panel.
The design is customized with 2 names and most importantly the names can be written in any given language -Hindi, English, Tamil, Malayalam, Bengali, Gujarati, Punjabi, Urdu or any other regional language. The preview will be sent to you for proof reading before making. Therefore, this name plate a perfect house warming gift for your friends and family. Gift a smile to a friend or relative starting a new life with a new house.