We now take you through the variety of material options available when choosing to buy house name plates. Use this article as a reference for office name plate materials.
If you haven't read our earlier articles in this series on name plates, we recommend you read them in 0ur name plates guide.
---
Home wasn't built in a day!
It could be exciting to decorate your new house with all the cool stuff right away.  Your new home would surely be a delight to look at with all those additions. But how long would this beauty last? Designs and face value matter. But it would be a good idea to take some time and research on the process and materials used for making that home décor product. It will give you a clear idea of its life and maintenance. In this article, we will discuss everything about name plate materials. Materials like wood, acrylic, stainless steel, metal sheet, and glass – their maintenance required, cost, and life! Also, we will spread light upon which material is suitable for outdoor name plates.
Unlike wood or steel, which you can visualize instantly, acrylic is a less heard off material. It is a material that has all the features of glass other than its fragility. Acrylic sheets are shatter-proof, which makes them sturdy alternatives for glass. Unlike wood, acrylic has excellent water-resistant properties. It is even used to make aquariums. This makes acrylic one of the best choices for outdoor signage. The majority of the road-side hoardings and retail shop boards use acrylic. This is a testimony to the life of acrylic name plates in outdoors. Following are the types of home name plates made in acrylic:

Acrylic sheets are available in many colors. But the most popular form is its transparent medium, which replicates glass. Laser engraving on these transparent acrylic sheets creates beautiful name boards. It is a minimalistic approach to design, and the content looks like a matt film over transparent acrylic sheet. Such name plates are usually fixed with studs.  These acrylic sheets are entirely waterproof and hence can be used in any outdoor requirement. The cost of a name plate depends on the thickness of the layer chosen. Usually, 8-12 mm of thick sheets look stunning in this format of the minimalist designer name plate.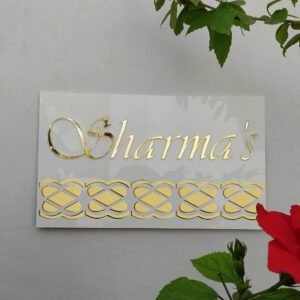 In this method of designing, a house name plate is made by using two contrasting colored sheets. One-color forms the base for the name plate. While the names and house details are cut in the second color, which is then stuck on the base sheet using chloroform, as these also do not use any printing method, they are full proof for outdoor usage. Exposure to the sun will not affect these stylist name plates.
The addition of light to laser cut acrylic sheets make these a unique set of house name boards.  Here again, two colors of acrylic are used. One forms the base layer, while the other is cut on a laser machine. But here, the cutting is reversed. The name and content are cut through, and the background is kept as it is. Hence when the light is applied behind the base layer, the sun only radiates through the house details and names. Such a led name plate looks stunning to the eye because of light.
Glossy dark sheets of acrylic in these nameplates give a mirror finish to the whole body. These are designs that can be used outdoors. But yes, with the integration of light, you will need a powerpoint before jumping in to buy such a name plate online. Hence checking with the wireman of a possibility for a power source at the position is suggested.
All acrylic name plates can be cleaned easily with wet wipes. Unlike wood, there is no additional layering in these. Hence cleaning is very easy. And there is no risk of paint/vinyl removal in the long run. But LED Name plates may require electrical maintenance after a couple of years, which can be done from its back panel. The cost of the name board with light is higher than the conventional laser cut or engraved models.
Wood is one of the oldest materials used for name plates. Carving in wood has been an early form of having one's house name board. But raw wood name plates are on the expensive side as the material cost is high. With evolution, wood also has been modified and altered in many forms. MDF – Medium-density fiberboards are engineered woods wherein sheets are made out of condensed softwood fibers along with binding agents. MDF is denser than a regular wooden ply. It is usually manufactured out of recycled wood. Hence it is cheaper than regular timber. Following are different types of wooden name boards.
Engraved wooden name plate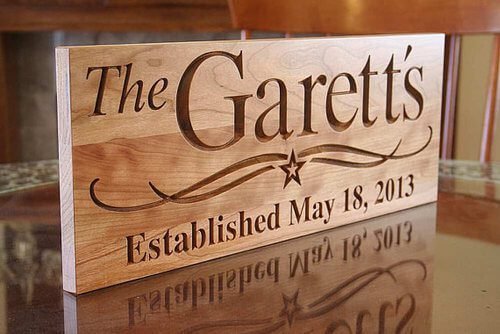 A block of raw wood is cut and finished from the edges. This is then subjected to laser engraving with the content already present in the machine. The upper layer of wood is burnt off, and it gives a black finish. This complements the soft yellow color of raw wood and makes for a traditional design. They are suitable for small-sized door name plates.
Laser-cut name plates in MDF wood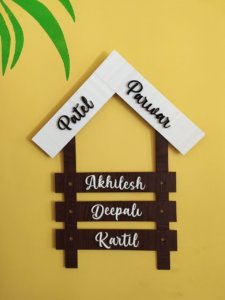 Unlike raw wood blocks, MDF sheets are available in low thickness. Hence they make for the right choice of material, where one is looking to have cutouts in name plates. With laser cutting coming on the table, it gives liberty to design. Unique shapes and designs of name plates can be created in MDF. The letters above can also be cutout in MDF and colored differently.
As raw MDF is pale to look at, usually, a wooden vinyl or spray painting is used as the finishing layer. This form of customized wooden name plates is very cost-effective. MDF as a material is incredibly cheaper than acrylic/raw wood. But there is a limitation. Such designs cannot be used outdoors. MDF disfigures its shape with contact to water. Hence they can't be used where even drops of rain are expected to reach. Moreover, the life of these wooden name plates is lesser than acrylic counterparts.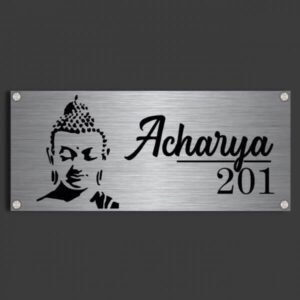 Stainless steel name plates are a modern culture addition to home decor. These were used for some office applications, but their usage for house name plates is new.  Engraving on 1 mm stainless steel provides beautiful black shades. This contrasts with the shiny silver color of the metal and hence looks brilliant to the eye. On the material front, stainless steel is probably the most costly out of all considered. But the strength of this material makes these stainless steel name plates almost immortal. They can be used outdoors as it is a weatherproof material is made in a good grade.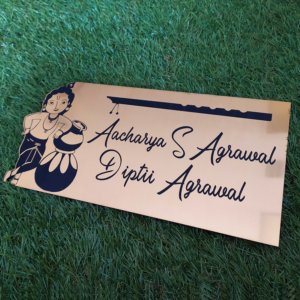 A cheaper alternative to steel is using an iron sheet with a golden finish. Engraving these 1 mm sheets, give the content in black while the mirror finish gold behind provides complete contrast. But they lose the weather resistance property of steel. It is vulnerable to corrosion if there is exposure to rainwater. These metal name plates are a good idea for flat doors where water cannot reach.
If you are someone who loves colors and is not ready to take the binary feel of an engraved name plate, then this is the canvas for you. Printed name plates use sublimation technology. Here using a heat press, the content is transferred onto a metal sheet. This metal sheet is then fixed on a wooden block behind to give it a sharp look. This can be simply hung on the wall. The advantage of such designs is the freedom of design. You can have every shade of color in the spectrum. Metal sublimation makes sure print life is perfect.
This is a simple yet an innovative form of a name plate. The steps involve plotting glow in a dark sticker sheet on the content outline and then simply sticking it to a black/dark background. The material charges itself in the day time, and it glows in the dark. Because of the simple fabrication, these designer name plates are low on cost. And still have a unique element of night glow in them. They can only be used indoors as it is ultimately a sticker.
Comparison between different name plate materials
Factor
Acrylic name plate
Wooden name plate in MDF
Stainless steel name plate
LED Name plates in acrylic
Printed Name plate
Metal Name plate
Glow in dark

Name plate

Life

Great

Low
Excellent
Good
Good
Average

Good

Price

Average

Low
High
Highest
Average
Low

Low

Outdoor friendly?

Yes

No
Yes
Yes
For some years
No

No
---
To read more about Name Plates, here is the list of articles we have written: