Aashray – Name plate with light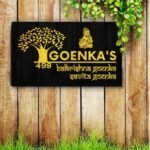 Aashray – Name plate with light
₹ 3,499.00
₹ 3,499.00
A name plate which portrays the peace & shelter of home
Bold English fonts for surname, while hindi style fonts for names
Customized with two names, surname and house number
Size: 10×17 inch, 2 inch depth, Material: Black acrylic with golden texture behind
Bal Gopal figure a top can be customized as well
Delivery:
Metro cities - 2 working days
Non metro - whatsapp 96246 22160 for confirmation.
Description
Home is where one finds peace. Aashray is a name plate which portrays this peace. A big tree gives a underline to the name, while the house number hangs below. A picture of baby Krishna sits at the top. The bold fonts for the surname give it depth, while the names are written in Hindi style fonts below. Personalized with two names, surname and house number, this is a unique customized name plate.