Niwas – Name plate with light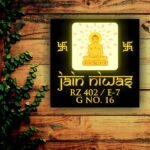 Niwas – Name plate with light
₹ 50.00
₹ 50.00
Stunning name plate with a big image and light inside
Hindi style fonts for authentic Indian look
Customized name plate with name and house number.
Size: 12×12 inch. Depth: 2 inch. Material – Black acrylic and golden texture
Delivery:
Metro cities - 2 working days
Non metro - whatsapp 96246 22160 for confirmation.
Description
Niwas is the place where one belongs, the residence. A stunning face to your residence is this Niwas name plate. In a square geometry, given is a big large area for the icon image. This image could be a representation of your religion, your occupation or your faith. An image which is so close to your heart, that you connect it with your home. The Hindi style fonts blend in with the aesthetic Indian feel of the name plate. Small swastika on sides further adds to the feel. This name plate can be customized with home name and number.