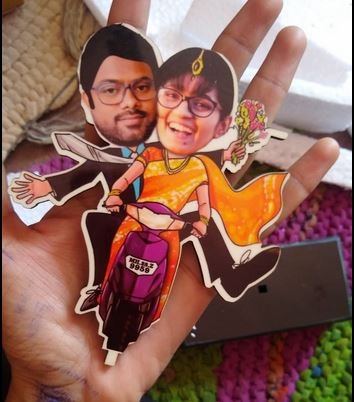 You drive me crazy couple caricature standee
You drive me crazy couple caricature standee
1. Couple caricature standee for those who are madly in love with each other.
2. Express how much joy she brings to you with this personalized gift.
3. Super cool addition to her work desk.
4. Material: Acrylic + wooden stand below. Custom made with two names.
5. Size: 8″ x 6″
Delivery :
Metro cities - 2 working days
Non metro - whatsapp 96246 22160 for confirmation.
Description
Are you head over heels in love with her? Here is an anniversary gift for her that expresses exactly the same. Custom made with your faces, this caricature standee is an exciting way to show love. Draped in an Indian saree the lady is driving a two wheeler. The man behind is wearing a suite and has flowers in his hand. The posture speaks of the joy he feels while with her. With a wooden stand behind, this will sit rock solid on your/her desk. With your names printed below, this is a personalized gift for your wife she would treasure for life. Admist all the stress on her work desk, this will be a piece which will make her smile.