The perfect Personalized Wedding Anniversary Gifts for Couples
Jay Mehta
Do you want to give your better half something that they would cherish forever as a wedding anniversary gift?
We have conceptualized the perfect personalized wedding anniversary gifts for you. It is unique and beautiful and beneficial at the same time. It is the Photo Lamp. They are multiple photo lamps available, ranging from simple table photo lamps to rotating photo lamps and from customized moon lamps to photo lamps with an in-built music system.
To make your selection process a bit easier, we have made a list of wedding anniversary gifts products that you can easily choose from.
Wedding anniversary gifts list:
---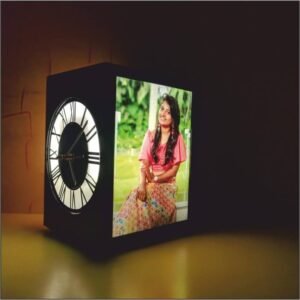 For tech-savvy partners, here is the perfect gifting item for your anniversary—a product which will invoke memories not only through photos but also through their favourite music.
With features like FM Radio, Bluetooth pairing, USB/Aux cable compatibility, and a clock, this product has it all and is a perfect desk solution.
What can be a better gift than having all your favourite memories revolving around with light radiating from each photo? This gift perfectly fits for your anniversary because not only your partner will love the uniqueness, but also the efficiency of the lamp. Every night of its use, you can admire the best times you share.
Zoci Voci's Nostalgia is a rotating lamp that has up to 4-6 pictures on it. It is a perfect lamp that revolves as well as radiates one of the best memories you share with your partner.
One thing we have always heard in Bollywood love melodies is the moon. Moon is depicted as a symbol of love for many centuries. When have we not heard dialogues like "I will bring you the moon and stars" or "I love you to the moon and back" in every cheesy love story? So why not gift it?
Zoci Voci's Chandrama is the perfect gift to prove to your partner that they are the centre of your universe. Show you the epitome of love and affection by gifting them this personalized moon lamp. You can select two best photos of you and your partner and customize this moon lamp.

Have you always wanted to gift a photo frame of your wedding day to your better half? But you find the traditional frames somewhat generic to gift?
Zoci Voci has the best option for you – Mr. and Mrs. Photo Frame. This is a photo frame that combines traditional and modern look. This is a LED photo frame, with a sturdy and conventional wooden frame on the outside and the contemporary feel of the LED lamp with your photo on it! The wooden frame comes with an acrylic cutout of your last name. Thus, it is a perfect gift for your anniversary.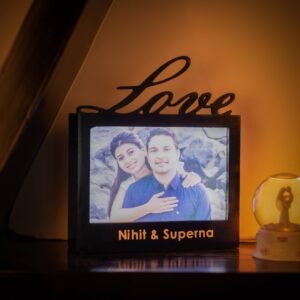 It can be hard to articulate each emotion that you have for your better half. You want a product that expresses the immense love you feel for your partner?
That is why Zoci Voci has combined the best features in every product and offers you – Love Photo Frame. This is a beautiful "Love" cut-out frame, which also has an LED feature. Thus, it can be used as a lamp as well. Not only do you get to the photo of the two of you, but also your names embedded at the bottom of the frame.
This surely is the perfect gift of LOVE.
---
We hope this list helps you figure out the perfect wedding anniversary gifts to complement the amazing evening of your anniversary with your loved one.
Zoci Voci offers you the best-personalized gifts that you can give your special one on your anniversary day. We at Zoci Voci, have a wide assortment of personalized gifts that you can choose from. There are different customizable gifts available such as personalized mugs, photo frames, personalized clocks, and even Caricatures.
If you are still in a debate on which item to choose, you can also use free personalized gifting services available here.
Check out our customer reviews here. You can also check out our Instagram and youtube profile.