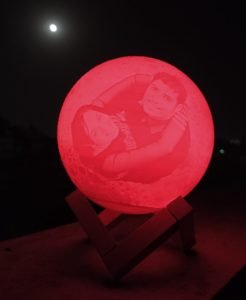 Give Your Moon A Real Moon!!
In Vedic Astrology, Moon is considered to be the most influential planet, as it is believed that it governs the mind and emotions of a human being. Moon is the inner self of the person, it shows the feelings, compassion, creativity, and intuition.
Moon signifies the inner beauty of a person or the beauty of a strong bond between two people. It is the most important symbol of love, it represents the unbreakable bond between two people.
In olden times to express the depth of their love, men used to offer to bring the stars and moon for their beloved. In the 21st century, it is possible to make that saying come true!
A customized moon lamp printed with your photo and caption on the back. this makes it the best valentine's gift one can think of. Show your romantic side this Valentine's day and gift the moon itself.
You can customize this customized moon lamp with one of your best-shared memory with your loved one, and it comes with a sweet quote on the back that says "love you the moon and back". You also have the choice of customizing this quote and add the caption of your own choice.
Technical Details of customized moon lamp:
3D printing technology is used to create this artifact from scratch just for you and your love. Customization can be done on the other side of the moon, with a caption of your choice.
The lamp is battery powers, so you can recharge it at any time with the given USB cable. Since its battery-powered lamp, it is easily portable. You can just charge the lamp and carry it anywhere you want.
The moon lamp comes with a strong and beautiful wooden stand that elevates its look to the finest.
The best part about this moon lamp is the multicolored LED light that illuminates the photo as well as the quote. The color of light changes with a touch. Yellow, blue, cyan, red, pink, green and the list goes on with the number of beautiful color shades this lamp produces.
This personalized moon lamp also wishes to bring a smile to mother nature. Therefore, it is made out of recycled plastic. The delivery time is more than a regular photo lamp, as it takes around 30 hours to print a moon lamp in the best quality. But the wait is worth the experience it brings.
The production of this lamp takes up to 30 hours, but it gives you best-guaranteed quality.
Designed to accommodate 1 sweetest photo with your loved one!
Changes color on touch
Best gift for your loved one's birthday or Best anniversary gift
Measures 15 cms diameter
3D printed image on the moon
Made with recycled plastic, meaning a sustainable and conscious gift
Sturdy body with a complimentary beautiful wooden stand
For the latest designs in photo lamps, follow our Instagram and youtube page.