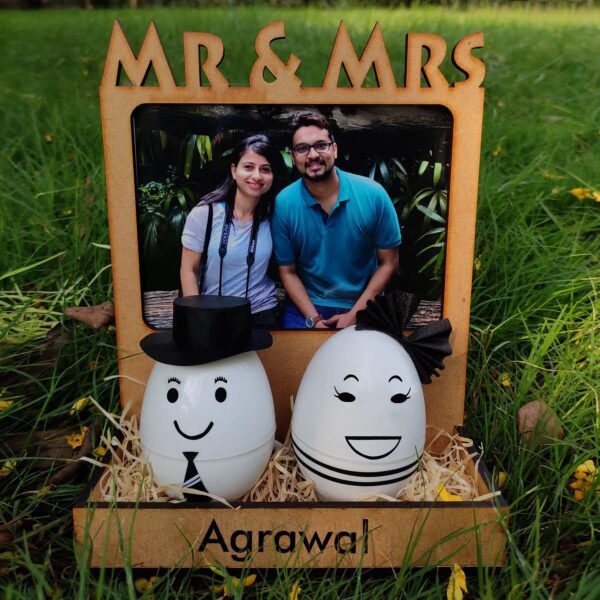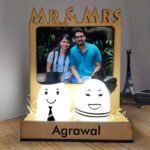 A Happy Marriage Couple lamp for anniversary gift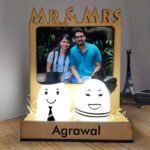 A Happy Marriage Couple lamp for anniversary gift
An anniversary gift that reminds your partner of your wedding day
Celebrating your cute companionship with two handcrafted bride and groom eggs
A personalized gift which is also useful as a night lamp with the eggs having light inside.
Material: Laser cut MDF, plastic handcrafted eggs, Light inside, plotted vinyl and photo paper.
Photo is inserted in a groove, which hence can be changed later.
The light from egg spreads to the picture, giving a beautiful feel at night.
3 W LED used – Low on power consumption. High on smile quotient.
Size: 6″ x 8″ x 2.5″ deep. Comes with a two pin plug wire. Ready to switch on and work. No batteries
Delivery :
Metro cities - 2 working days
Non metro - whatsapp 96246 22160 for confirmation.
Description
Marriage is a union of two people who convert their companionship into an eternal relationship. A happy marriage is a state when that relationship even after years of being formed is giving the same joy to both the partners. When such a state is achieved, anniversaries are birth dates of that happy union. They become an occasion to celebrate the nuptial bliss, the joy of having each other and being together. A wedding anniversary photo frame that celebrates the same cute companionship with which it all began is Happy Marriage couple lamp.
This personalized lamp has a cutout of Mr & Mrs in wood with a photo of the couple. Along with these, there are two hand crafted bride and groom eggs which have light inside. These  bride and groom eggs are a symbolic representation. They are a reminder to the state of joy you were in, on that special day. This couple gift tells the story of how complete you felt with your partner that day. And there has been no change in that feeling till date. The picture behind is replaceable anytime in future. Therefore, it a perfect personalized photo frame for both  – a newly wed couple or a couple having their 25th wedding anniversary.