Valentine Forever– Romantic Table Top Photo Gift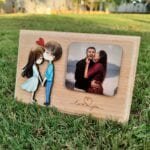 Valentine Forever– Romantic Table Top Photo Gift
₹ 699.00
₹ 699.00
Natural wooden plaque
Size : 4″ x 6″
Personalized with 1 photo representing your Love
Digital glossy print to bring the same smile to your face as in the photo
Cutout of a cute couple on one side with colorful print to express your emotions of Love
A cute Message of Love engraved on wood below the photo
Delivery :
Metro cities - 2 working days
Non metro - whatsapp 96246 22160 for confirmation.
Description
Valentine's Day is all about expressing those unsaid emotions. A gift which does exactly that is this tabletop photo frame. Custom made with one photo, this wooden plaque portrays a couple's cutout on the side. The boy kissing his beloved girl on her forehead tells of the eternal attachment he has for her. The wooden plaque behind is giving a natural base to the prints in front. Size: 4 x 6 inch.