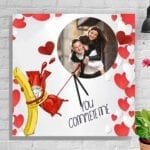 Fries & ketchup photo clock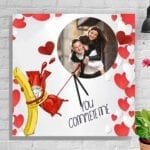 Fries & ketchup photo clock
₹ 599.00
₹ 599.00
Material : Acrylic
Size : 8″ x 8″
High quality digital print
One Aa Battery Required (Not Included)
Wall clock can be held on the wall with the help of hook provided on the backside of the clock
Delivery :
Metro cities - 2 working days
Non metro - whatsapp 96246 22160 for confirmation.
Description
A hardcore romantic gift for husband and wife who are completely dependent on each other. French fries and ketchup are a classic combination of a pair, where partners are not so interesting alone, but when together form a match made in heaven. This anniversary, give a gift to your partner which speaks of how he/she brings the best out of you. Customized with one picture, this is a cute photo clock which reminds the couple how special they are for each other. The hugging french fry and ketchup make a cute graphic with red hearts flying around. Digitally printed on acrylic, this personalized clock comes with a wall hanging facility and table top stand both.