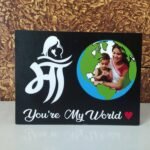 Maa – My world LED Photo Frame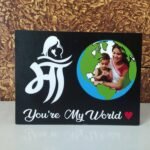 Maa – My world LED Photo Frame
₹ 999.00
₹ 999.00
Creative photo frame for mom which depicts her importance in your life
Personalized gift with one photo designed inside the outline of earth
Hindi "Maa" and a graphic enhancing the emotional quotient
Size: 6 x 8 inch, Material: Black acrylic and laminated print
LED photo frame for mom – Unique Mother's day gift
Delivery :
Metro cities - 2 working days
Non metro - whatsapp 96246 22160 for confirmation.
Description
Moms have magical powers. They bring lives to the world and then enlighten them with the wisdom to do great things in their lives. Celebrate your mom's magical powers with this personalized gift. A photo frame which has the Hindi graphic of "Maa" is on one side. On the right, there is a cutout of earth, with a picture of you and mom inside it. This is a creative photo frame which depicts how important she is to you. With light from within, the colors of earth and your picture glows. At night, the all black background makes the content look as if it is 3D.